If you feel your child may benefit from a preschool evaluation, please contact the Preschool at 419-673-7248 to set up an appointment.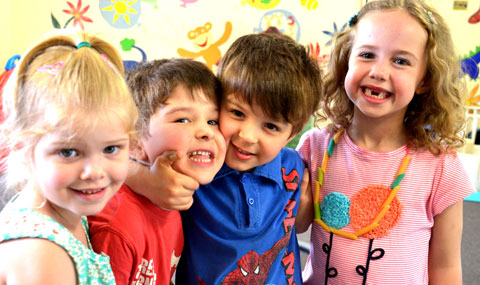 A parent/caregiver, teacher, or doctor can make a referral to Kenton City Preschool team. Referrals will go through the Early Childhood Coordinator and an Itinerant Intervention Specialist with Kenton Elementary School. To make this referral, please contact the Preschool Program at 419-673-7248 to set up an appointment.
Teams will consist of the parents/caregivers, special education teacher, early childhood coordinator, and a district representative. Based on your child's needs a school psychologist, speech language pathologist, occupational therapist, physical therapist, vision specialist or audiologist may be need to be involved.
The first step in the process in to observe and interact with your child at home in order to gain an understanding of their level of development to see if a referral for an evaluation is needed. If further evaluations are warranted, you will then receive information about Play-Based Assessment held at Kenton City Schools. We will be looking at the following areas when working with your child; fine and gross motor, social skills, language/communication and cognitive. A quick interview will be done with the parent to address adaptive skills. A vision and hearing screening will also be done with each child.
After all evaluations are complete and it is determined that there is a documented deficit in one or more of the following areas (communication skills, hearing abilities, motor abilities, social-emotional/behavioral functioning or vision abilities), the team will hold a meeting to discuss the information. Because of these documented deficit's, an IEP (Individualized Education Plan) will be created for your child. This will also define the LRE (least restrictive environment) ensuring that the children have the consistent support they need to access the general curriculum.
The IEP team will discuss the LRE (least restrictive environment) for your child. The law states that your child receive services in an environment that "includes children in public or private institutions or other care facilities; that they are educated with children who are not disabled; special classes, separate schooling, or other removal of children with disabilities from the regular educational environment occurs only when the nature or severity of the disability of a child is such that education in regular classes with the use of supplementary aids and services cannot be achieved satisfactorily." Itinerant services can be provided in the least restrictive environment as agreed upon by the team. Related services, such as occupational therapy, physical therapy, speech therapy, etc. will be provided in an educational setting.